Early this week, Facebook announced that it is rolling out a "shops" feature for Facebook and Instagram for business pages/profiles and many have asked me my opinion. Will this be the eCommerce GameChanger it may sound like?
My answer:  I don't' know… but with this, and all new innovations, I treat it like a fax machine and then reason through… I'll explain.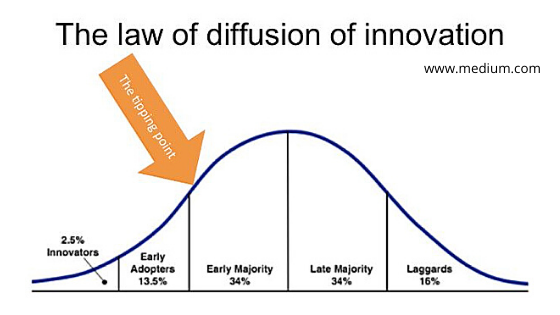 The innovation curve (at right) shows how a new product (or concept) comes to market. It's generally believed that for a product or concept to catch on, at least 15% of people need to adopt the behavior or make the purchase.
Let's run through this with the fax machine. The first fax machine (otherwise known as an "Electric Printing Telegraph") was invented in 1843. Many innovations were made on the device until the first actual fax was sent to distribute wanted posters between police agencies in Paris and London in 1908. 
This means that for 65 years, fax machine technology existed but no one was using it. Furthermore, it wasn't until 40 years later, in 1948, that a fax machine was produced that could actually fit on a desk. So really, it took over a century for faxing to become a mainstream thing. If you were an early adopter, you got to feel innovative by owning a fax machine, but you really didn't have anyone sending a fax to you! (Yes—it's lonely to be an innovator).
Back to Facebook shops. 
First, we can tell a lot about innovations by looking at past iterations. In 2015, Pinterest rolled out a "buy now" button and it failed… so much so that it doesn't exist on the platform anymore. This isn't to say that Pinterest doesn't drive sales, but it's a discovery mechanism… not a funnel closer. 
People go on social media to be entertained. They don't necessarily go on social media to be converted (sold to). To understand this better, think about a newspaper or a magazine. Many of us pick up those publications because we are seeking information and entertainment. We may notice an ad, but we don't pick up the phone or go to the website RIGHT THEN and make a purchase.
Next, if we use the innovation curve to think this through—we need a lot of people to adopt Facebook Shops before they begin to transcend into the mainstream. Facebook reports it has 2.6 billion unique monthly users. This means, we need 390 million people to start using Facebook Shops before historical research shows it becomes mainstream. That's more than the entire population of the United States.
Bottom line:  We will see many warning signals before Facebook Shops become mainstream. In other words, if you don't set one up TODAY, you have NOT missed your chance and you are definitely not late to the party.
If you DO set one up today, you might make a few passive sales, but I would stop short of saying it's going to be an instant GameChanger… with two caveats. 1)  We are moving through unprecedented times where innovations may transcend the mainstream a lot faster; and 2) a lot more people passively lurk on mobile devices now than they did in 2016 when Pinterest canned it's "buy now" button. Even with these caveats, though, we WILL see signals in time to "set up shop" (so you still won't be late to the party, I promise).
In the meantime, my advice is to do what we already know works incredibly well for retail sales on social media. Use remarketing ads on Facebook and Instagram, add some stickiness by using Instagram stories as well. When possible, also add email marketing to the mix.
Remarketing has a 40%+ conversion rate. When the boots (or enter sought after product you've clicked on here) follow you… you think again. When you think again, your commitment becomes stronger. The consumer psychology behind it is just too powerful for it not to work.
And what about email marketing? According to HubSpot, 72% of consumers EXPECT to be sold to on email and as such, it actually converts better than social media. Again—social media is an introduction tool, but things like remarketing and email marketing are closers. Use them all in a smart combo.
Before I go… I just want to repeat that I'm not saying NOT to try Facebook Shops… just don't count on a lot of cash from them at first. If you do want to try them just to see, head on over to the left-side menu of your Facebook business page and click on "Shops." From there, Facebook will take you through a step-by-step process to set up your shop and inventory management system. It's intuitive and easy, and the fees are low and only charged at point of purchase.
You have nothing to lose… BUT I am cautious about telling you whether or not you have something to gain just yet!
Have a great weekend,

Vanessa